text.skipToContent
text.skipToNavigation
ACT NOW! 
Because you care about yourself and your environment, we developed a sustainable, high-performing care & styling range. Discover our products for pleasant, yet nourishing care & touchable, lasting styles.
Natural ingredients
ACT NOW! products contain pure and carefully selected natural ingredients, such as Aloe Vera leaf extract, cold-presssed Avocado Oil or Shea Butter. They're completely vegan and don't contain silicones, sulfates or artificial colorants.
Packaging
Packaging is made up to 97% recycled plastic and FSC certified paper, and it's fully recyclable.
Social Cooperation
We are cooperating with Plastic Bank to fight global plastic pollution.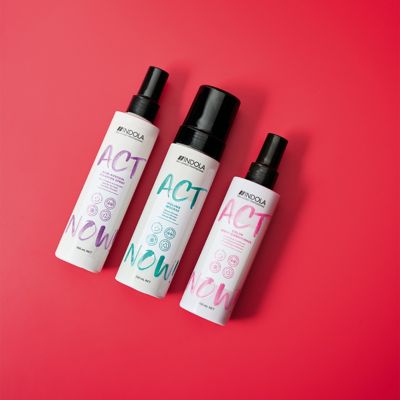 ACT NOW!, Performance with Purpose!
These days most of your clients are expecting vegan, sustainable hair products that still deliver amazing results. With all-new 3 products, ACT NOW is even better equipped to deliver answers to all your clients' needs.
NEW Color Spray Conditioner
- Supports brilliant shine, and fights against frizz and unruly hair without overweighting the hair. Locks the color pigments in the inner hair fiber.
NEW Volume Mousse
- Boosts natural volume of all hair types. Medium hold without stiffness, supports bounce, shine, and root lift. Protects against blow-dry damages.
ACT NOW! IS THE BEST GREEN CHOICE OF THE YEAR
Indola's ACT NOW! was announced as a winner of Pinni magazine's Best of the Year 2022 competition in the category 'Green Choice'. The jury consisted of editorial staff of Pinni magazine, members of Beauty Editors' Union and professionals of Finnish hair industry.
ACT NOW! Street Style Collection
The nomadic street style journey continues, with a winter feel! We keep on collecting inspirations from our travels to celebrate a certain mix of cultures, while focusing on inspiring colour tones for your clients.
Get inspired by the new drop of Street Style Collection, featuring on real, authentic, wearable and trendy looks, all focusing on cultural fusions and nomadic chic!
Let the ACT NOW! products gently condition and emphasize your hair to create the perfect Street Style Collection looks.